By using Odyssiant as your content auditing tool, you gain access to exceptionally valuable insights that will inform and improve your content planning, delivering greater value from your content programme for your business.
"The benefits were immediate as soon as our content was audited it was obvious what was missing – a massive help for me." Elliot Trussell – Industry Marketing Manager, IFS
Here are five of the top insights you will gain from using Odyssiant *
1. Total content by step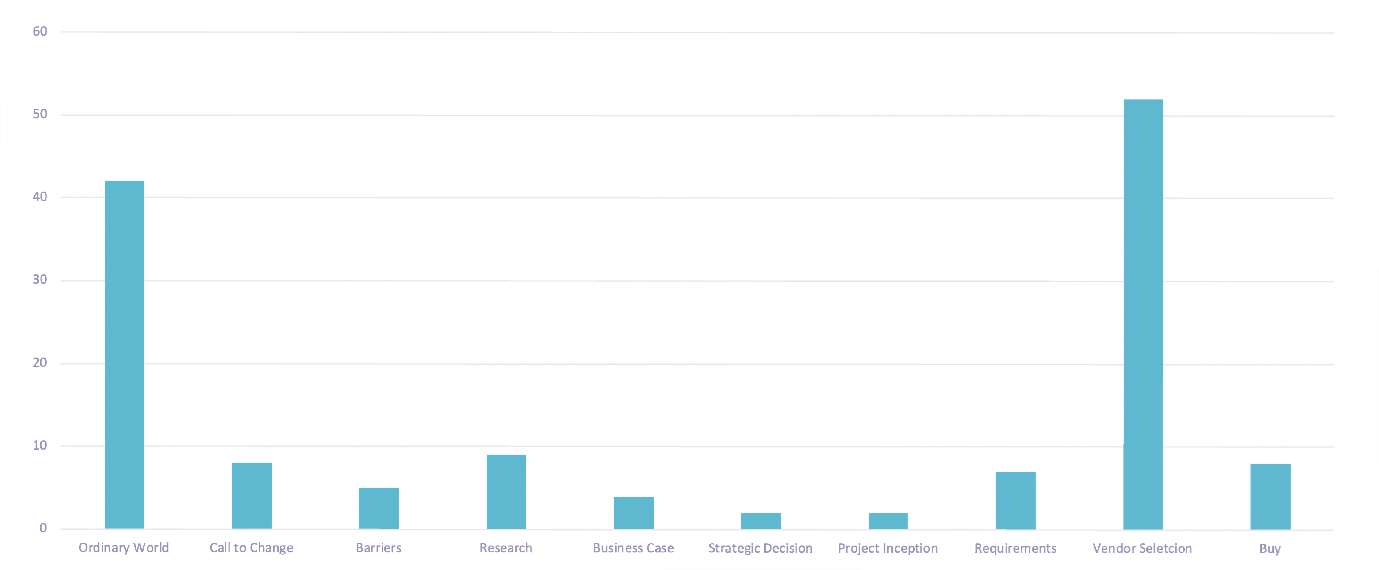 In this graph you can see how much content exists for each step of the journey. In this example, it's clear that the user has a considerable amount of upfront content for the early marketing stages of the journey – e.g. thought leadership content on blogs and white papers. There is then a dearth of content in the middle of the journey and then, as would be expected, a considerable amount towards the end of the journey when the company is looking to sell to the customer.
Of course, completing a journey does not mean having equal amounts of content for each step. Far from it, sometimes a single piece of content can achieve an enormous amount – it could possibly even cover multiple steps. However, what this graph allows the content strategist to do is to look at those columns that are underserved, assess that content and decide whether the content that is there is sufficient.
It also allows the content strategist to think carefully when briefing in content as to whether too much content is being produced for steps of the journey that are already very well served by content. This can help constructively challenge the planning and briefing process to produce content that engages through every step of the customer's journey.
2. Total content by personas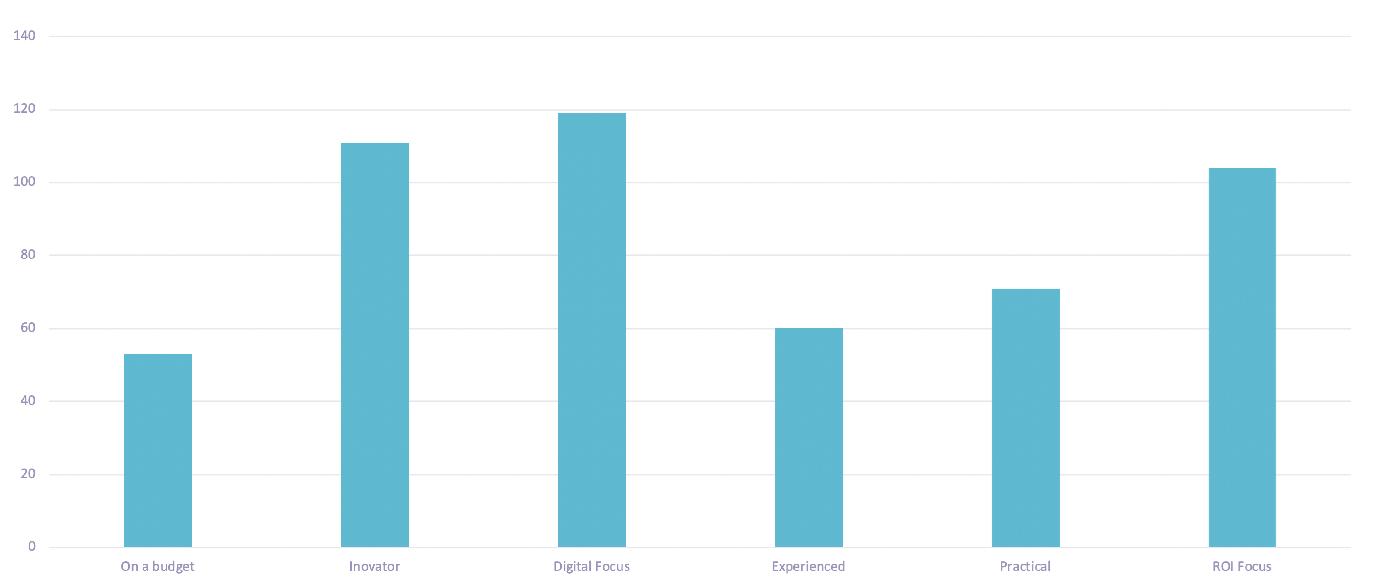 Similar to the above, understanding how much content you have for each customer persona helps the planner understand whether the priority personas are being correctly served. Of course, if your business treats all person types with the same degree of priority, the lack of balance would be telling.
3. Total content by persona by step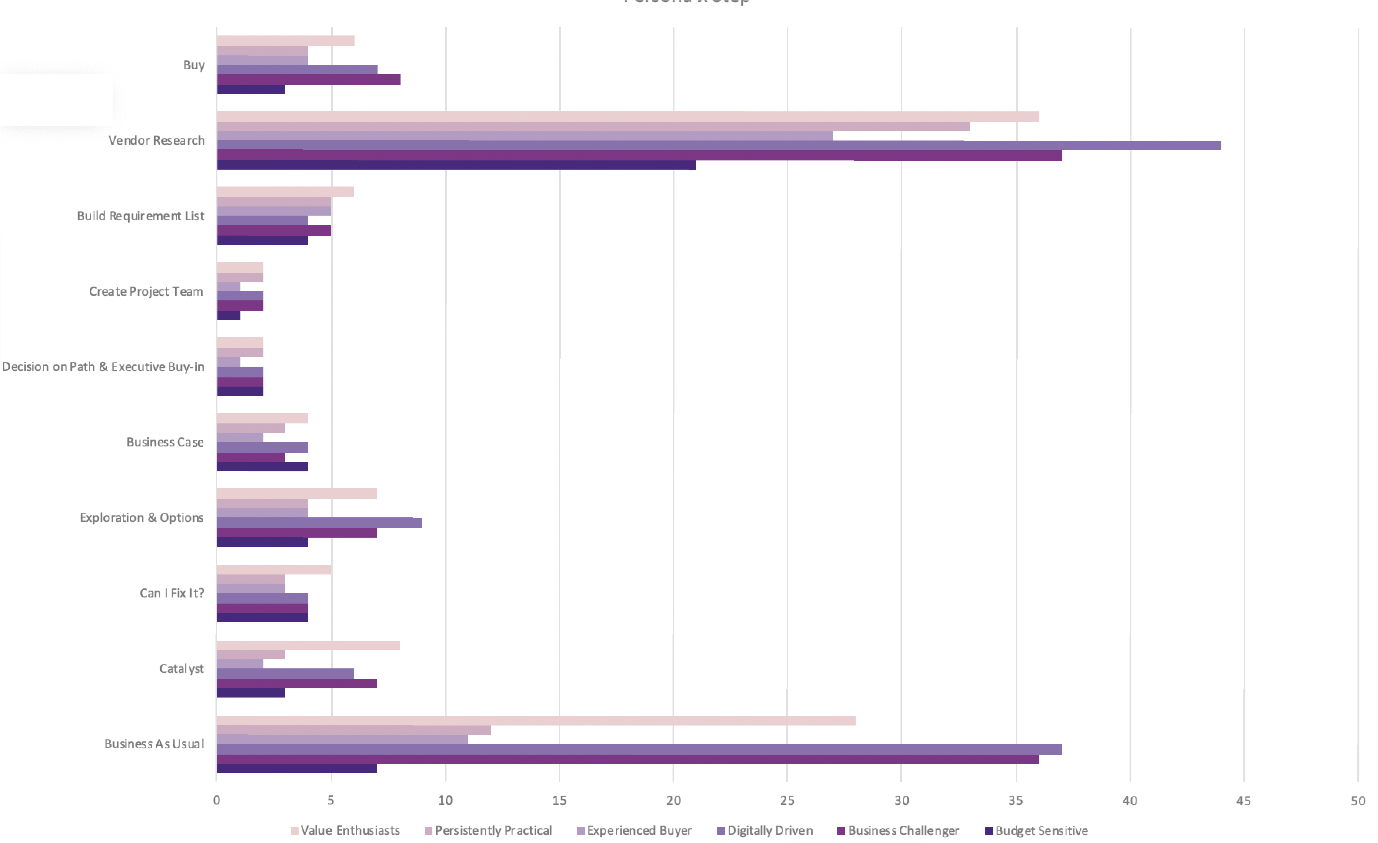 Combining the output of the above two diagrams, it's now possible to start digging into the detail of the content to see where the planning opportunities truly lie. In this graph, you can see how two personas barely have enough content to be served through their end-to-end buying journey. Conversely, two are quite well served.
4. Customer needs by step
Another key capability of Odyssiant is to tag each content item by customer need. By doing so, you are able to ensure the content is contextually relevant for the customer and therefore far more likely to be engaging. While customer needs can change through the journey, it is by ensuring the customer needs are being covered by content that you can allow the customer to find their own personal way from initial engagement through to sale.
By building a 'needs cloud' around the customer (as Odyssiant does) it is then possible to serve up contextually relevant next best content which will take the customer forward on their own personal journey.
5. Customer needs by persona
In this final graph, you can see how the customer needs relate to each persona type. If you have priority needs, then these should be served across each step and across the relevant personas. If not, this insight will greatly assist the planning and briefing of future content.
* The above images show graphs that are drawn from Odyssiant's content audit reports.